MicroFocus / NetIQ
Access Manager (NAM)
Identity and Access Management
Identity and Access Management Has Four Goals
Identity and Access Management has four goals: To grant authorized access to users, eliminate risks of unwanted access to systems, protect and enhance the integrity, availability, and confidentiality of user data, and make it easy for owners to execute the information security policy of the organization.
Every year, it gets harder for your enterprise to secure web access. It can be a challenge to find a solution that addresses Access Management for your mobile, cloud-based, on-premises and intranet needs. MicroFocus / NetIQ – Access Manager (NAM) removes the complexity of Access Management and provides you SSO using just one technology.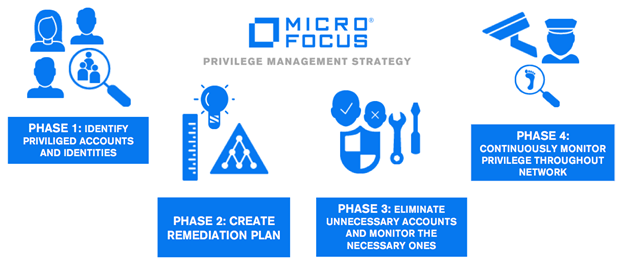 Allow us to help you pick the best of breed solution for your IAM Issues
Benefits of MicroFocus NAM
Organizations utilize MicroFocus / NetIQ – Access Manager AM solution for different reasons. Below, we have summarized the positives associated with the use of the product.
A Flexible Tool– This technology has been designed for easy installation and configuration. Updates have been crafted to integrate smoothly with existing systems. Many clients have started on version 1.1 and have successfully upgraded to version 4.4 without any glitches.
Excellent Web Access Solution for Mobile and Fixed Users: This is a secure web access feature that accompanies Single Sign-on and Federation. It serves as the gateway for employees to access web pages, whether they are in the office or on the road. Once the technology is installed, it is easy to create a structure that allows users access to the web-based services that they need easily and quickly. Securely deliver access to internal and out-of-the-box web applications. A bonus is SSO.
Mobile Access: Access Manager supports the Mobile Access app for enterprises that want to provide web-based apps for their mobile users. Whether it's for customers or internal use, Access Manager authenticates and enforces the proper access controls for each application.
Where this technology shines is in its ability to audit and report. You can analyze potential risks, identify areas that are not compliant with in-house or governmental regulations, execute the needed changes as needed and prove that your organization is compliant with set regulations.
Pros
Easy to install and configure
Integrates seamless with existing architecture
Secure web access solution
Very flexible
Excellent vendor support
"To be honest, I can't find a service that I dislike from GCA."
– Sr. Director Of Infrastructure, Education on Gartner Peer Insights

Start Planning For the Future Today
Book a 15-minute call with a GCA representative today to find out how an assessment can help you combat the challenges your organization is facing. We'll discuss the interview process and set expectations for stakeholders.
 Book a 15-minute IAM expert to get started.